GST Accounting System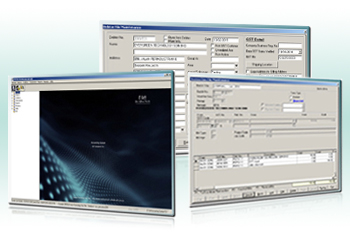 E-Soft Accounting System is a multi-user, SQL Client/Server Based Acounting System.
The Chart of Accounts is simple & flexible.
System provides Posting to account features. This will enable the higher level staff to verify the transaction before they are posted to the system.
Provide different level of security entry. User allows to define the user access right.
Flexible in modify the transaction.
Able to handle Manufacturing Accounts.
System Features:
SQL client-server architecture
Truly real-time automatic posting
User access right control
Userfriendly screen interface
User audit trails
Auto backup features
External file handling - all reports are able to export to others file format including Text, Word Excel, Lotus, PDF, etc.
Form Module:
General Ledger Module
Accounts Receivable Module
Accounts Payable Module
Journal Entry Module
Payment Receipt Module
Fixed Assets Module
Debit Note/ Credit Note Module
Reports:
Debtor Listing
Creditor Listing
General Ledger Listing
Trial Balance
Profit & Loss Accounts
Bank's Ledger
List of Expenses
Depreciation & Net Book Values
Bank Reconciliation
Balance Sheet
Manufacturing Accounts
Debtor & Creditor Statement
Print Payment Voucher
Official Receipt
Print Cheque
Debtor Aging Analysis
Yearly Sales Analysis
Payment Listing Against Invoice
List Unpaid Bill
Budget And Variance
Source And Application of Funds
Project Account Sample Reports